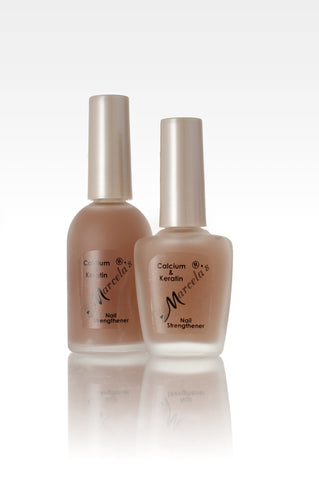 Mineral and protein enriched strengthener that helps tackle sensitive, brittle and dry nails. This a 45 day treatment that helps maintain healthy nails.
Instructions:
Apply an additional coat every day for five days and repeat this procedure until nails have achieved strength desired.
We advise to use this treatment between 45 days to 8 weeks until nails are firm and healthy.
The best method of application; apply on tip to begin and then allow the brush bristles to have maximum coverage on the rest of the nail.
For best results apply treatment directly in contact to natural nail. This will ensure that weak, brittle nails and ridges are fully strengthened.
Follow Marcela's Tips for best results:
Treatments: Garlic or Keratin base coat, as advised.
Oil: apply every night to moisturise cuticles.
Cut: for healthy nails cut the tip as it grows until you see the new nail strong and firm.
After treatment is completed, switch to pink protein maintenance.
Please Note:
As with all nail products and treatments; we strongly recommend if you have sores, fungus or other skin or nail disorder to contact your doctor first. If you experience a burning sensation or any other discomfort, please discontinue using.